Use this example as a guide when composing your next EOS® Integrator job description.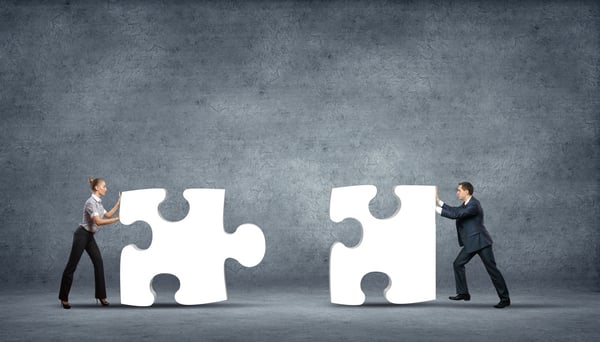 In EOS® companies, the Integrator plays an integral role in the organization and functions as the Visionary's right hand, or the glue. Often times, you may have heard this role referred to as a COO, President, General Manager, or Chief of Staff.
With any role, a detailed job description is crucial for attracting the right caliber of candidate. When you find yourself in need of a key leadership hire, such as the Integrator, the components that make up the job description become even more critical. To ensure you cover these details, we have created a template for the Integrator job description to be used as a guide.
This template was created based on our experience in recruiting Integrator's. However, please note that no two Integrator job descriptions are alike which is why you will want to review each section of this job description carefully.
The 6 Sections of an Integrator job Description:
Title of Job
Reporting Structure
Position Summary
Responsibilities
Requirements
About Us Section
Title of Job
As you may imagine, it is important that the title of the position is clearly defined at the top of your job description. Additionally, in this space you should include the title of your company. See the example below:
Integrator Job Description - ABC Company
Reporting Structure
When sourcing for Integrators we found that listing the reporting structure gives candidates a better understanding of your organizational layout and accountability chart. We recommend listing who will report to the position, as well as who the position reports to. See an example below:
Direct reports: List the functions that will report into the Integrator here. I.e., Operations, Sales, Finance, etc.
Report to: List the Visionary here. I.e., Visionary, Tom Brown
Position Summary
Use this area to detail what unique qualifications and characteristics you are seeking in the candidate for the position. A few short sentences used to describe in detail what you are looking for will help attract the right talent. See the example from the template below:
We are looking for a results-driven, and detail-oriented Integrator to join [company name], insert a brief statement describing the company here.
The right candidate will have an instinctive ability to recognize, retain, and respect the talent within the organization, and help guide employees to reach their full potential through support and mentorship.
This dedicated leader will develop and maintain control of all business operations and will be an experienced and efficient leader with excellent people skills, business acumen, and an exemplary work ethic. The ideal individual will also be a strategic planner with the essential ability to specify, strategize, and define opportunities.
Responsibilities
Break down the major responsibilities of the role and list them in bullet point form here. We recommend listing the responsibilities in order of importance - with the areas of highest importance noted at the top of the list, and the least important functions listed towards the bottom. You may see some of the following items listed as responsibilities for an Integrator:
Oversee daily operations and makes adjustments as necessary, ensuring the organization is consistently "rowing" together in the same direction
Executes the business plan, achieving or exceeding established P&L objectives
Collaborate and stay on the same page with the Visionary at all times
Filters and translates the Visionaries ideas into functional plans for the company
Develops comprehensive goals for performance and growth strategies
Effectively resolve issues - must be comfortable with conflict, addressing issues, and solving problems in a practical and healthy manner
Identify areas of opportunities for capital improvements across the organization, including opportunities to improve revenue, increase margin, reduce cost, and increase profitability throughout the organization all while improving efficiency
Attract, retain, and develop a high-performing team
Lead, manage and hold direct reports accountable for achieving agreed-upon commitments
Cultivate and manage healthy relationships with strategic partners and vendors
Consistently demonstrates a passion for values alignment, focus, simplicity, and clarity across the organization
Requirements
In this section of the job description, list the "must-haves" the job holder must possess in order to perform the job successfully. Note that these requirements are representative, but not all-inclusive, of the knowledge, skills, and abilities required to perform this job. Reasonable accommodations may be made to enable individuals with disabilities to perform essential functions.
Similarly, in this section we advise listing out the requirements in order of importance, as well as in order of requirement. See an example of how we list the Integrator requirements here:
Proven results as an Integrator, Chief Operating Officer, Vice President, or a similarly relevant role
Experience building high performing teams, including the ability to recognize and cultivate rising talent required
Adept at transitioning seamlessly from a strategic level vision to day-to-day tactical operations required
Working knowledge of data analysis and performance/operation metrics required
A demonstrated execution mindset and a record of success holding people accountable required
Understanding of and ability to create healthy organizational culture required
Excellent interpersonal communication skills required
Experience working with an EOS® company strongly preferred
Varied experiences and responsibilities in Operations, Finance, and Human Resources strongly preferred
Experience leading high-performance teams within the [insert relevant industry] strongly preferred
Bachelor's degree strongly preferred
Advanced degree, MBA or similar, preferred
About Us
Most viable candidates will want to understand the company they are seeking career interest in. Including a few sentences on your company, as well as linking to your company's website should be done in this section.
The Integrator you are seeking will want to know what makes your company unique. You should use this space in your job description to tell prospective job holders of your story, mission, and company culture.
Conclusion
The job description of the Integrator is intended to convey information essential to understanding the scope of the job. When done correctly, this job description should address the general nature, as well as the level of work to be performed by the Integrator within your specific organization.
Please keep in mind that a job description is not intended to be an exhaustive list of qualifications, skills, efforts, duties, responsibilities or working conditions associated with the position. The information detailed in this article is to be used as a guide, source of ideas, and assistance.
Are you contemplating hiring an Integrator, but are not sure? If so, here are 5 signs the time might be right for hiring a second-in-command. If you are considering getting help with recruiting your next Integrator or other leadership team member, please give us a call today.
Next Steps:
Review our 10 Integrator Interview Questions to ask during your next Integrator Interview!
Check out our EOS® Integrator and Leadership Team Search Services
Better understand your role as a Visionary. Here are the 3 Most Common Types of Visionaries.