Today's CEOs often find themselves spending more time on the road than in the office. According to a study done by Harvard Business School researchers, CEOs work 62.5 hours per week, on average, with more than half that time spent outside company headquarters.
There are strategies a CEO can employ to make sure that the company is running smoothly in his or her absence. Inc. magazine recently reported on a few, such as depending on a COO to pay attention to the daily details of operating a business. These include:
Let your COO run operations at headquarters, and trust him to do the right thing
Use real-time technology tools to keep abreast of your business while on the road
Hold one-on-one meetings with your executive staff when you are in the office
Make sure your COO offers a healthy balance to your skills. If you like selling and being gregarious, perhaps the best COO for you is one who is comfortable standing in the wings, spreadsheet in hand
Depend on a COO who is flexible working with different teams.
Excellent communication skills and the ability to collaborate well are some of the key attributes you look for in a dependable COO. You don't need a "clone" to replace you in the office, but you do need a reliable executive, whom the staff respect, and whom you trust.
"Understanding what makes for a successful chief operating officer is vital because the effectiveness of COOs (or ranking operations executives by whatever name they are called) is critical to the fortunes of many companies—and could be to many more," Harvard Business Review reported. "… the second-in-command executive is a role that by rights should become increasingly prevalent. It is prevented from doing so, perhaps, because it is so misunderstood."
To find out if you, as the CEO, are delegating what you should to your COO, consider which responsibilities HBR says are part of the COO position:
Executor
Change Agent
The mentor
One role of a COO is to lead the execution of strategies developed by the top management team. It's a concession to the complexity and scope of the CEO's job today, with its numerous external commitments.
Several years ago, Microsoft filled the long-vacant position of COO with Kevin Turner from Wal-Mart. In announcing his appointment, the company stated that Turner was expected to use his retail experience to lead Microsoft's effort to grow the consumer products business.
Just as Microsoft did when it hired Turner, some companies name a COO to lead a specific strategic imperative, such as a turnaround, a significant organizational change, or a planned rapid expansion.
Some companies bring a COO on board to mentor a young or inexperienced CEO (often a founder). Noteworthy examples include Michael Dell hiring Mort Topfer at Dell in 1994, and Google hiring Eric Schmidt to mentor Sergey Brin and Larry Page when the company began.
Are you delegating the right duties to your COO?
Keith Rabois, former COO of Square, describes the COO at a startup as a doctor in an emergency room, always fixing things, triaging and diagnosing issues to determine if they are minor or potentially fatal, Entrepreneur.com reports.
If you are the CEO of a startup, it's logical to believe that you would not want your COO fixing things while you're on the road unless he consulted with you first. This is where trust is paramount. No doubt the COO can call you to describe an emergency: offer solutions to the crisis, and you believe that your second-in-command, who is on the scene, can fix things.
One of the most essential attributes of the effective COO, notes Entrepreneur.com, is that they have no or little ego. While you are traveling and making sales pitches to investors, you take comfort from knowing that your COO is carrying out mutually agreed upon instructions and always acting in the best interest of the company. She does not seek the limelight and focuses on getting the job done as efficiently as possible.
You can also feel confident of your COO when he depends on data for decisions. While you are flying around the world, wooing investors and making promises about how your company will grow, it is satisfying to know that back home at headquarters, your COO is crunching the numbers. Let your COO handle the figures and the details, and let him give you the big picture, knowing that you both are seeking the same goal: your company's growth.
Delegating in absence of a COO
If you travel a great deal and do not have a COO at headquarters on whom you can depend, collaboration tools like Slack and video calls can help you stay connected. You also must appoint a lead manager who can make decisions in your absence and handle the day-to-day operations at your firm.
Many CEOs find that a smart, capable Executive Assistant can cover a lot of work for them, but this is only a temporary, or stopgap, move. Eventually, it becomes clear to the CEO that with travel taking up more and more of their time, hiring a COO is inevitable. A strong Chief Operating Officer can focus on running the day-to-day, including; leading, managing, and holding the team accountable.
Keep track of what you need to delegate
If you are a CEO who does not have a COO, on your next week-long trip make a running list of every crisis and every major decision that had to be made during your absence. When you start interviewing COO candidates, run a few of the scenarios by them to see how they would have solved the problems. As you hear how these talented executives manage both their time and company issues, you can better determine how your COO will function as your second-in-command.
Use the list gleaned from your travels as a template to guide you about the kinds of responsibilities your COO will be handling in your absence. When you are ready to hire a candidate, outline her duties in detail, so she can know when she can operate independently, and when she needs to call you on the road.
If you have been flying solo for a long time, it will be a great relief to you to have a second in command to be your co-pilot. Not only will this executive lessen the burdens on you, but she will no doubt energize your company and your business. When you're traveling, you can then focus on the clients and investors you are visiting. Your business is in good hands.
Kaplan Executive Search is a retained search firm specializing in recruiting Chief Operating Officers for companies in the cannabis industry, those running on EOS®, as well as emerging growth and lower middle-market organizations. Learn more about how Kaplan Executive Search can help you find your COO talent.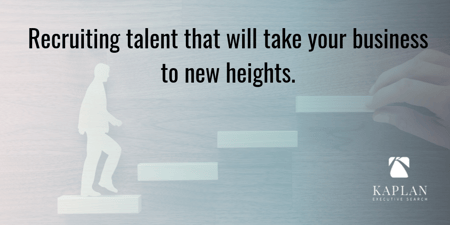 Next Step:
Check out our Abridged Guide to Hiring a Chief Operating Officer, containing top considerations for CEOs and Business Owners when hiring a COO.