Given the nascent nature of the cannabis industry, many roles being hired for are newly-created. This has made recruiting and hiring a challenge for many companies. One way to navigate these challenges is to put in place a solid recruitment process that includes research, drafting job descriptions and recruitment marketing, creating and conducting a structured interview and reference check process, negotiating new hire terms, and more.
Take your growing cannabis business to new heights by recruiting and retaining top talent for your cannabis jobs with these 10 interview questions.
10 Interview Questions for Cannabis Leaders
1. Why do you want to join the cannabis industry? (Or, for those that are already in the industry, why are you passionate about working in the cannabis company?)
We recommend starting off with a basic ice breaker that will allow the candidate to speak openly about why they are interested in a cannabis job and/or your organization. The senior leader should be able to address how their background and experiences can be applied to the industry, and why they are excited about cannabis' future.
2. Why do you think you're a good fit for our company? Why is our company a good fit for you?
It's important to get a better understanding of the candidate and how they perceive themselves in the role. Everyone that is part of your leadership team should have a passion for the organization's mission, vision, and goals. Follow up with this question by asking the candidate: "Why is our company a good fit for you?"
3. What is your experience in building and fostering the "culture" of an organization?
Culture fit is extremely important for any company, especially for newly start-up, early-stage, or second-stage organizations. With the company personality still being defined, you will want to seek out an executive that has experience and passion for establishing a culture of success.
4. What is your experience building high-performance, purpose-driven teams?
The leadership style of your executive team is critical to the success of your organization. Purpose-driven leadership is also arguably more important in cannabis than in other industries that are not as regulated or highly scrutinized. Make sure you probe deeper during this conversation by asking follow-up questions such as, "tell me more about that…"
5. Describe a time when you had to make significant changes to an organization to improve the business? What obstacles did you face? How did you overcome them?
Hiring leaders that are agents of change will give your organization a huge boost in an industry that is constantly evolving.
6. What skills do you possess that will impact our bottom line?
This question will help you gauge a candidate's ability to add value to your organization.
7. What methods do you use to make decisions? When do you find it most difficult to make one?
You likely want to strike a balance between a decisive leader, and one who will protect your company by making decisions that are thought out and well-researched.
8. What has been your greatest leadership achievement in a professional environment?
It is important that the individual understands their impact as a leader and has a sense of how their team views them. When the candidate describes these attributes, you should get an understanding of what motivates them as a leader.
9. What would your direct reports define as your areas needed for improvement?
Conversely, you will want to ask about their shortcomings as well. A humble leader will admit to weaknesses, and work to correct them for the betterment of the organization.
10. Have you ever been over budget? Why? How did you handle this?
It is not just the finance team's job to oversee expenditures. Each individual sitting in a leadership position for your growing cannabis company will be responsible for their own departmental budgets. You will want to hire someone who can be counted on to watch the money.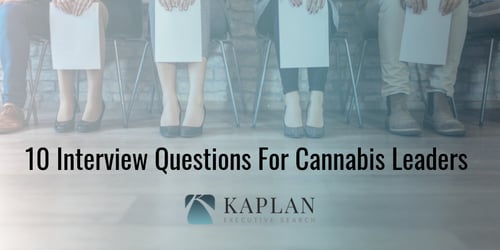 <<<<
Do you have cannabis-related interview questions that you think deserves to make the list? If so, please share it with us in the comment section below!
Kaplan Executive Search is a retained executive search firm specializing in recruiting leadership talent for cannabis-based businesses that produce, service, or support medical and adult-use marijuana, CBD, and hemp products. Learn more about how we can help you find talent.
Click here if you looking for cannabis jobs.